I haven't written an entry for a little while...

J'ai été très

occupé! S

ee, i'm still doing my evening class French!
Well, hopefully I can produce something of horticultural and literary merit for you during this spare 60 minutes of mine.
Here's hoping!
So, seeing as this is a bit of a re-introduction, let's commence with a dainty little picture taken this past week. A week spent with high winds, dodging rain and hailstones.... and it's nearly June!

Allium fit to burst.... backed by swathes of unfocused forget-me-nots and a colour co-ordinated summer house to boot!
So, what have I been up to? Well, speaking horticulturally at least, I took myself off to Wisley last Saturday to spend a day in the company of a Mr Noel Kingsbury.... not forgetting of course the plantswoman Marina Christopher, who also helped to co-create what was a splendid day.
The theme of the day was 'Successional Planting' and, seeing as i'm due to attend the same-titled day at Great Dixter in July, I was keen to see how Noel stood up (not literally!) against one Fergus Garrett, whose lectures and training i've attended many times before.
Well, i'm pleased to report that if these two horticultural heavyweights were placed in a boxing ring (one made of clipped formal Box perhaps) i'm sure they would both go the distance, with one returning to his exotic corner, full of Cannas, Ricinus and Dahlias... whilst the other would slink quietly back to a more naturalistic corner, wrapped in the seedheads of grasses, salvias and prairie- daisies. Two quite different approaches, yet both are plantsmen of the highest order.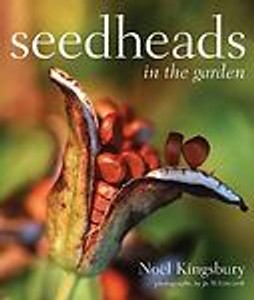 Noel has written over 22 books - this being just one of them
...and many with a certain Mr Oudolf
I always recommend anybody - anybody who loves plants that is - to attend days such as these. I think they are reasonably-priced, with that day costing £70 which included regular teas & coffees throughout the day, and a decent lunchtime sarnie too! There were two lectures - Noel's & Marina's - and two separate tours of the Wisley grounds to look at, and comment upon, the nature of successional planting: a complex subject made slightly easier by seeing working examples.
Sitting here now, and reading back over my copious notes from that day, I can count and recall at least 10 things I learnt on the day... things I certainly didn't know before. Did you know, for example, that the Darwin range of hybrid tulips are the most reliable to return each year? You did? Well, nobody told me!!
Also, a handy garden design tip. A good way to judge whether your garden has good a structural element to it is to take pictures on a digital camera, and then convert them to black & white. This really does work! Right there before your very eyes - quite literally in black & white - you can see the bolder/starker elements of the garden, contrasting with the whiter, more hollow areas.
Personally, I find days like these, rubbing shoulders with the main players in contemporary horticulture, absolutely fascinating, very rewarding, and ultimately beneficial to the work I do in the gardens I help maintain.
In a related matter, have you ever heard of Mary Keen? She writes a Sunday column in the Telegraph (Sage Words) and has her own page in the RHS's monthly Garden magazine. Well, i've always been rather fond of her and her writing. To me at least, she seems to speak the language of the horticulturally wise. She has a way of writing that conveys a mature sense of gardening wisdom and knowledge, and of ultimately what it means to be a gardener. I've read her columns enough times now to realise that she's either 'been there, done that'.... or - on the subject of horticulture - she's probably forgotten more than i'll ever know.
Mary Keen
Well, on the subject of today's more naturalistic planting schemes (Kingsbury & Oudolf to name two contemporary exponents) she recently re-echoed the popular opinion that much of the style is not realisticaly transferable to the gardens of Mr & Mrs Average. The argument has always been that current naturalistic plantings demand a huge landscape in order for it to be effective, and that you need massive areas to create great swathes of grasses and perennials: e.g, see the borders around the Wisley glasshouse, Oudolf's work at both Pensthorpe and Scampston, The High Line, and so on. She has "reservations about translating the Oudolf style to domestic gardens" and that "the perennials Piet paints with need a vast canvas".
Scampston
Well, I can see her point, but I still see no reason why the effect cannot be created in the smallest of borders. I have a garden the size of a postage stamp (do such things still exist I wonder?) and I think, despite the huge reduction of scale, such planting does work. In an area no bigger than 2mtrs x 3mtrs, I squeeze in 5 or 6 grasses; 4 types of Rudbeckia; 3 different Heleniums.... there's a Salvia.... some Agapanthus. All dotted with tall verbenas, alliums and Cosmos. Look! See for yourself...

Okay, perhaps it isn't quite The High Line, but on a 6sqm plot...? I think it can be done!
Oh well, I think that's about it for this post. Thanks for reading!
Marc (le jardinier)
* And.... just in case you have both the time and the interest, please follow:
http://www.noelkingsbury.com/57/Home.aspx
http://www.telegraph.co.uk/journalists/mary-keen/